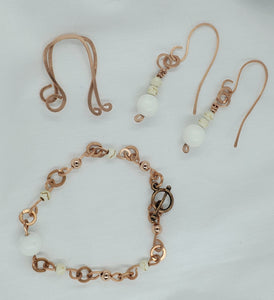 Howlite a lovely stone used to reduce anxiety, tensions and stress.  Use it to facilitate awareness, to encourage emotional expression and assist in the elimination of pain, stress and/or rage. It will calm and soothe the emotions, slow the overactive mind.
It will help to achieve a deep and restful sleep, help to access wisdom during the dream state and bring this wisdom into consciousness upon waking.
 Hand hammered 18 and 20 gauge pure copper. Each link is hand cut and hammered for durability. the design appears as I work. A special connection with crystals, I'm honored to be chosen to create these little masterpieces. 
99.9% Pure Copper
Mixed White Conch Shell and White Howlite beads.
Handcrafted twisted and bent copper design bracelet 
24 gauge and 18 gauge Pure Copper earring hooks (No skin irritating alloys) 
18 gauge earring hooks are for people who have gauged ears.
Reiki infused Gemstone Crystals