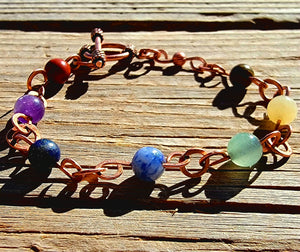 Hi Friends, get yourself or gift a limited
 lovely Chakra bracelet released to coincide with a 7 part Reiki Crystal Energy Healing series on my YouTube Channel. 
This bracelet is handmade.  each bead link and copper link has been hand hammered for durability. Plus, hammered copper is so pretty.  The Chakra balancing stones I chose are Red Jasper for The Root, Tigers eye for the Sacral, Yellow Quartz for the Solar Plexus, Aventurine for the Heart, Sodalite for the Throat, Lapis Lazuli for the Third Eye, Amethyst for the Crown Chakra.